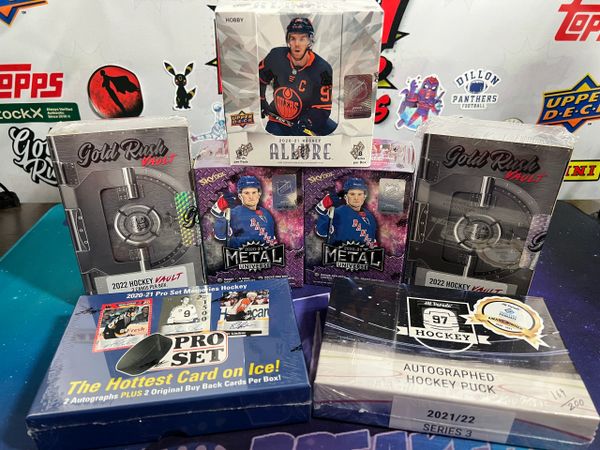 Hockey Mixer 5
7 Box Hockey Break 
Each SPOT is for 3 DRAFTED TEAMS (via Snake Style Draft)
MAKE SURE YOU ARE IN STREAM TO DRAFT YOUR TEAMS on 5/9/22 once we fill.

***IF YOU CANNOT MAKE THE STREAM, I WILL DRAFT BASED OFF OUR MOST RECENT TIER LIST!***
10+ HITS (including exclusive parallels/inserts)
The break contains the following:
2x 2022 Gold Rush Hockey Vault (3)
1x 2021 Hit Parade Autographed Hockey Pucks (1)
1x 20/21 Upper Deck Allure (1)
1x 20/21 Leaf Pro Set Memories Hockey (2) 
2x 20/21 Skybox Metal Universe Blaster
When all spots are sold, the mixer will break live on stream.
Watch the VOD if you miss the break live. Or check it out on our YouTube page.
Featured Products